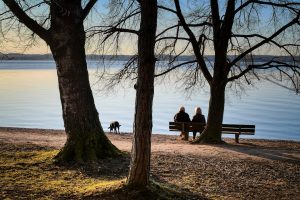 The SPCA also has a senior for senior program.
If a senior person wants to adopt a senior animal the adoption fee is either greatly reduced or sponsored.
Reasons to Adopt an Older Animal
Older pets bond to new owners just as quickly and sometimes even quicker than puppies.
Most older pets have already lived in a home and are accustomed to daily routines.
Older pets can be left alone for longer period of time without having to worry about potty breaks and therefore are often a better choice for people that work longs hours.
Many people afraid to adopt older pets (5 and 6 year olds) because they don't want to get attached and then have them die. Large dogs can live 12 to 14 years and small dogs can live 16 to 18 years. Cats can live 13 to 18 years.
Top 10 Reasons to Adopt an Older Cat
The personality of an older can is already known – making it easier to match you with the right cat!
Older cats are generally less demanding than youngsters, and need less supervision.
If you work outside the home, an adult cat is much better able to content itself while you are out, than a youngster.
Most older cats are seeking little more than a warm lap, regular food and love!
Adult cats from a rescue will be neutered, litter trained, and calmer than a youngster.
If you have an older cat already, another oldie, carefully introduced, can be less stressful for him/her than a kitten.
Cats regularly live into their late teens these days, so most seniors will have many years of life and love to give.
A senior puss is unlikely to leap up on your shelves and knock your ornaments off, or climb up your curtains!
Mature cats are so grateful to have found a loving home again – they will repay your love ten-fold!
And last but by no means least . . .Senior Kittizens Rock! (between naps)
Check out the Senior Dogs Project – Click Here